Via Scoop.it – Monetizing The Customer Experience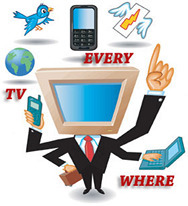 TV Everywhere a Road to Nowhere?- 03/15/2012…
The new Amazon-Discovery streaming video pact alone isn't enough to send TV Everywhere into oblivion.
But are we getting closer to TV Nowhere land instead?
Look, I'm a fan of TV Everywhere, TV Anywhere, Capitalism and whatnot. I'd love to see cablers sling their programming around to various devices wherever consumers might be.
But TV Everywhere isn't happening with any alacrity. The service was first announced nearly three years ago, and while there have been some rollouts, rights issues continue to bedevil the industry.
Read more: http://www.mediapost.com/publications/article/170200/tv-everywhere-a-road-to-nowhere.html?edition=44618#ixzz1pDl8RY8L